chuck
5.1.04 Waterskiing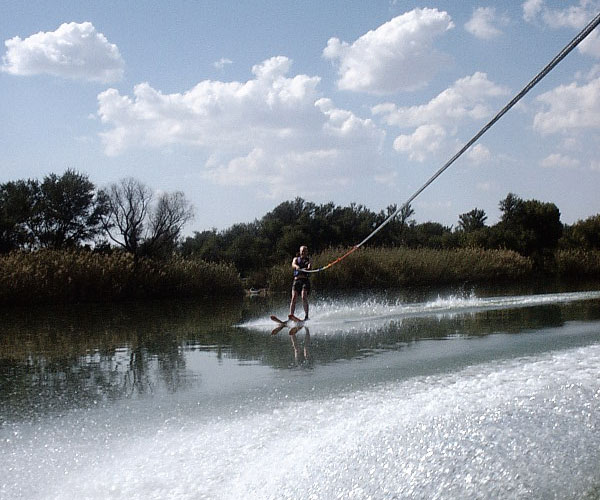 What a beautiful morning. The grounds are even more wonderful in the early morning light. We barbeque - brie - some grilled cheese/tomato/onion sandwiches and take the boat to the river. The boat launch area is more than a little run down so I sort of have diminished expectations. But once we're actually speeding along the river it's just amazing. I feel like Katherine Hepburn in The African Queen. All that's missing are the hippopotami and crocodiles (which is fine by me).
Away from the town there are some beautiful homes, including some mansions. There's a certain tree that's something like a weeping willow. Fabulous. And lots of very tall grass. Lots of interesting birds. This is just great!
Bok is going waterskiing. After fussing with the skiis and finding the right vest and lots of shouting about how cold the water is I again have diminished expectations - but he is very good at this. I'm impressed! In no time, he's swinging from one side to the other and never falls once. But eventually he's tired. And he makes sure we're watching when he deliberately lets go of the rope. snicker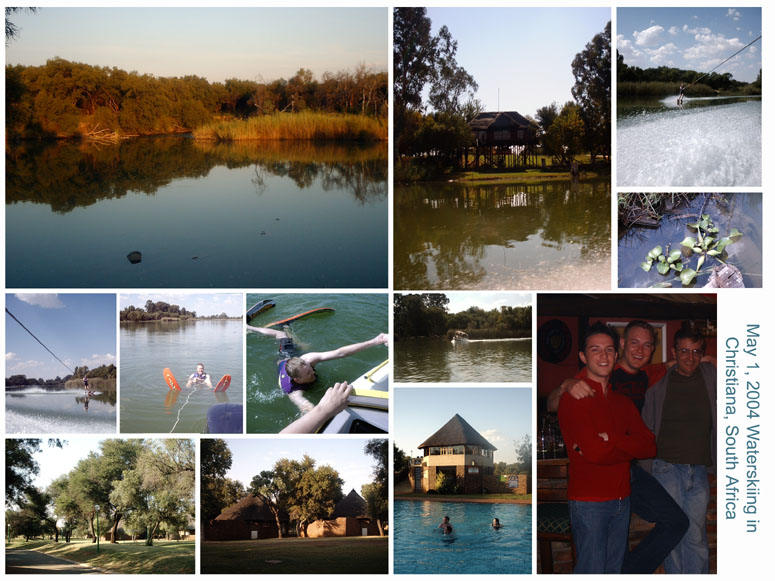 We come back to the launch area for a break. While we're lounging around we see a monkey. It's exactly the same as those we saw back at Bok's uncle's game farm. We are more than a little surprised when we see it go inside of a small house close to the river. We saw the man who lives here earlier when he came out to check his fishing pole. He's gone now and the monkey is searching his kitchen for food! LOL. We don't know what else to do so we just wait for the monkey to come back outside. We try to photograph it - but, alas, we fail.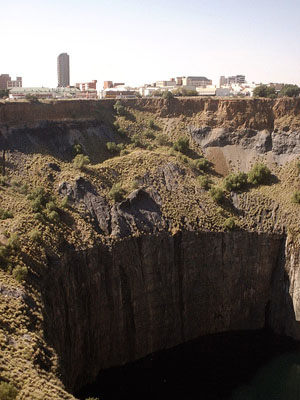 Two small dogs are yapping furiously over the edge of a nearby boat dock. It looks like a snake and so I'm cautiously curious. But it's a lizard about 18 inches long.
When we get back to the chalet we decide to go to the spa and then to the pool. No more drinking tonight!
5.3.04 Diamond Mine
Kimberly is the most famous diamond mine in the world. Even though it's been closed since WWI. A farmer named de Beers found a diamond on his land about 140 years ago and the rest is history. His farm became both the biggest hand-dug hole in the world and the location of a good-sized city. It's only an hour's drive from our chalet so instead of coming directly home we take a side-trip to see it.
The drive there is unremarkable. Miles of bush country. But near Kimberly there's a small lake and thousands of pink flamingos! They're too far away to appreciate except for their wonderful color and large numbers. The Flamingo Casino is adjacent. We like that too.
As we enter the city I notice a large Hindu property. It looks like it includes religious, educational and cultural facilities. There must be a lot of Indians here to support all this. Kimberly has a big downtown shopping district. It's a nice place. And very, very close to the downtown is The Big Hole. That's what they name it and that's what it is.
We decide to do the little town here first. It's a lot like a Western U.S. ghost town. We visit shops, banks, dentist, surgeon, undertaker. There are historical displays commemorating the Boer War. Women and children hid in the hole from British invaders during The Siege of Kimberly 100 years ago. Afrikaaners still seem not to have forgiven the Brits for the arrogance and brutality they are alleged to have shown then.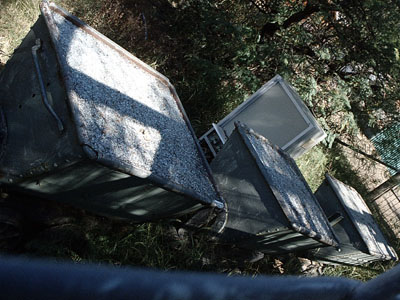 And behold, The Hole. Big. The city skyline directly behind it is a pretty cool touch. There's a display of three mining cars filled with broken glass which represents all of the diamonds ever produced here. We get a bucket of gravel which we get to search for diamonds but then I consider the volume of these "diamonds" compared with the volume of this hole and my hopes are not high. And no surprise, I'm right. We don't find any diamonds. LOL.
We pick up a few souvenirs and go back to the casino for lunch. Bok's dad wins the equivelant of about U.S.$500 and treats us to a fine lunch. We return to the chalet to collect the boat and our bags, and then it's to home. The new camera has arrived! Picture quality may improve markedly from this point. :)
5.4.04 Sony
Bok's dad's expensive new camera arrived today just in time for the Lunar Eclipse. It's daytime in America and from the moon only the dark parts of the Earth should be visible so... I think that means America sees nothing at all of this. Right? I think that's right.
Bok took all of these pictures, and more, of the moon. The camera's maiden voyage. When it was finished the moon was just a faint dirty brownish-yellow smudge in the sky.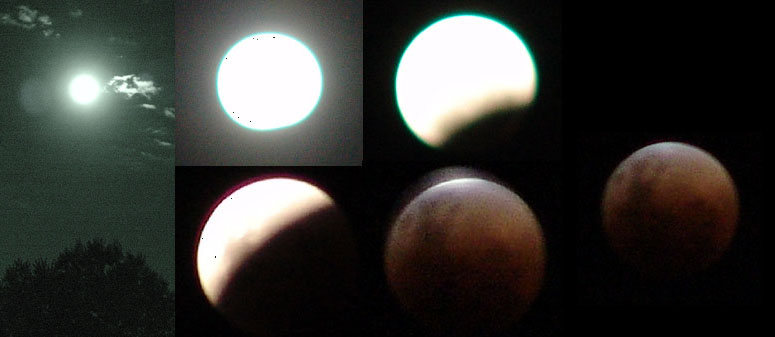 Cool !
5.6.04 Kruger
We're making plans to go to Kruger National Park next week. We'll have plenty of opportunities to make use of the new camera. This is excellent good news!
5.13.04 Mossel Bay Bound
The Kruger trip did not happen. Not yet. Too bad. Maybe later. Now we're expecting to go to the beach for a few weeks beginning on Monday, or thereabouts. It's about a 10-hour drive from here and in the vicinity of Cape Town. East of Cape Town. Which, I think, means it's the Indian Ocean. I've never seen that before! I expect it will look very, very much like the Pacific and the Atlantic but, you know, it's the idea of seeing a whole new ocean.
Bok's uncle has a house there and we'll be using it. Everybody gets quite dreamy whenever they talk about things there - the house, the town, the beach - so it's bound to be wonderful. We expect to see penguins! They hang out on the beach. And there's a cable car to the top of a mountain. Bungie jumping off of a nearby bridge (I'm told it's free if you jump naked. LOL.) Also a nude beach, btw. And we will go over to Cape Town for a few days. It's something like 150 or 200 miles.
We're even bringing along a maid. Bok's mom has hired one especially for us to bring along on this trip. As in Haiti, I'm getting quite accustomed to having somebody come in every morning and make my bed for me and do my laundry. :) I just try not to think about the fact they're getting paid only $250 monthly. :( It's very much better than Haiti. They only get $100 monthly. I expect that the one coming with us will be paid more than usual.
They have two regular maids here at the house. They're both named Julia. The one Bok's mom likes very much, but she has been home sick the past few days. The other everybody (including the other Julia) dislikes but it's next to impossible to fire anybody in this country. Big government madness again. We think that bad Julia steals booze from the bar when nobody is looking so I have offered to set up a web cam to snap photos every few seconds of the bar. We didn't get around to doing that yet. Maybe when we come home from the beach.
I'm all alone in the house right now. We have two temporary maids filling in for the one who is sick plus there are some farm workers who would otherwise be idle this time of year (they get paid the same regardless) and they're doing some things outside. Lots of servants. Only sick Julia knows any English at all so I just pretty much ignore them apart from the occasional nod and smile. We believe they are under the assumption that Americans are, if anything, even more accustomed to having servants about than are white South Africans. ROFL. Nice Julia has offered to return with us to America. Wouldn't that be nice!
05.14.04 Irrigation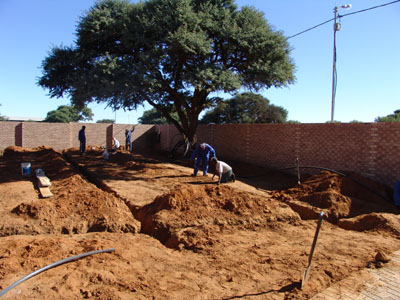 We're up early to go help Bok's uncle at the house he's built for his son in the nearby town of Hoopstad. Bok's helping to install the sprinkler system. Lots of ditches and plastic pipes. There are about 12 black employees of both Bok and his uncle here to assist. Some of the black men are smoking cigarettes of tobacco rolled in newspaper scraps. It's kind of freaky.
The house has a grass roof and I remark to Bok's aunt that I think there is not one grass-roofed house in America, except in Hawaii. She says it's popular here because of the way it keeps the house cool in the summer. Insurance is a problem. This is mitigated by some special baffles on top of the chimney and also the two lightening rods at each end of the house.
On the news all they can talk about is the announcement of the host country for the 2010 World Soccer Tournament tomorrow. She says a lot of people are worried about the inadequate security in this country. They can't handle the ordinary crime (meaning most of the visitors here will get robbed) so how are they going to handle the added problem of guarding against international terrorists? It's not gonna be very pretty.
The uncle gives me disturbing news about Chevy, my impala (see above) He says he saw Chevy once. And he knew it was him because he was all alone. Impalas, apparently, do not easily accept strangers into their herd. I immediately think of Rudolph the Red-Nosed Reindeer. Something about not letting him "...join in any reindeer games." Poor Chevy. :( He assures me that this is a temporary situation and soon Chevy will be playing with the rest of the impalas. I hope so.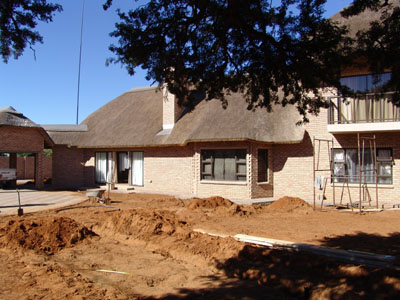 And he tells me about his recent trip across Zimbabwe. He says it's safer there than in South Africa. Yes, the government is a dictatorship and is forcing farmers' off of their land even as the country is threatened by famine - but crime is less of a problem. He attributes this to their use of the death penalty. South Africa coddles its criminals and is way too liberal to execute even those who commit the most monstrous crimes (of which there are many in this country). He says nobody gets more than 5 years for murder here and often murderers are free after just a few months in prison. It's no wonder there's so much crime here if it's not being punished. Madness.
Funny story. He needed to buy a tire when he was in Zimbabwe. It cost Z$660,000. They're having quite a lot of trouble with their currency over there.
Later we go to visit a family friend and have a real nice time drinking brandy and cokes. Have I mentioned that everybody drinks that here? I don't think I ever heard of this drink in America. They all want me to be drunk but I resist. I'm sure I've mentioned that Afrikaaners love to drink. Later, on the way home, we come upon a slow-moving convoy of four police cars all with their lights flashing. He decides to pass them! I never even heard of anybody considering doing this before. I expect we're all going to jail but we pass them one after another and nothing happens.
05.15.04 Soccer
South Africa in the news again. Along with the rest of the country, we watch the announcement live from Switzerland. South Africa is named the host country for the Cup or Tournament or Finals or whatever it is exactly. Everybody is ecstatic. Rugby is really the game of choice here but this is a high honor. Soccer is the biggest game in the world (except for America) so in 2010 the eyes of the world will be on the RSA. Neldon Mandela is there with his predecessor, the last white president and with Desmond Tutu (who always seemed to me to be a lunatic).
Mandela is gracious, as ever, in victory and his first words are to the effect that he hopes the countries that made losing bids will not feel too badly, and wishing them better luck in future. Mandela is very good at being Mandela. I begin to wonder if before he says or does anything if maybe he doesn't ask himself, "What would Mandela do in this situation?" It might be true, or maybe it really does come naturally to him. I still have met nobody here with anything but the highest praise for the man. He is revered by all South Africans, as far as I can tell.
We never did make it to Kruger National Park. Maybe after we go to the beach house, down near Cape Town on the Indian Ocean. We'll probably leave about the middle of next week. Hard to say exactly.
5.19.04 Away to the Cape
We're leaving in the wee hours tonight. It's an 11 hour drive down to the beach house. There are Internet Cafés, or so I've been promised. My access will be limited. But I'll keep on writing and will upload updates as I'm able.
5.20.04 On the Road
3AM is way too early to wake up. But we do manage. First, there's nothing but the familiar corn and sunflower fields. (Corn is called mylees, btw. I think I've neglected to mention that.) Then the fields give way to bush. Beyond Kimberly the bush gives way to desert. The land looks to me a lot like southern Idaho while the surrounding mountains look a lot like Nevada. Very, very familiar. I'm kind of losing interest. We enter a mountain pass which looks like it might be sort of interesting. The road is cut through the mountains and it looks just like the road from Las Vegas to southern Utah. Yawn. I'm sleepy. Maybe time for another nap.
Suddenly, baboons! One in the road. Then about 10 baboons together crossing the road in front of us. And then a group of mostly very young baboons. :) This is NOTHING like the western USA. There's a rocky river alongside the road and they seem to like it here.
We stop at an exceptionally nice rest area which includes grass-roofed buildings and decide to follow the trail up a little ways . We find a stream and two beautiful pools of water and then a high narrow waterfall. Oh, this is just too perfect! We take lots of pictures. No baboons though. But as soon as we leave the rest area we see a bunch more along the road.
Beyond the mountains we pass lots and lots of ostrich farms. They're raised for meat, feathers and leather. There's even a touristy ostrich farm that features ostrich racing - a set of gates numbered 1-10 like for horse races. LOL. What a funny concept. I'm told that you can even ride an ostrich if you want to. Wouldn't that make a funny picture!
The descent to the Cape is beautiful and I catch my first glimpse of the Indian Ocean. We're going to Bok's uncle's vacation home. Why exactly does a man with a game farm (giraffes, wildebeast, etc.) needs a 'vacation home'? Oh, well. It's a big house with five bedrooms. The roof is a big patio sundeck with a view of the Bay. We'll be here for at least a month! I sure hope I find a suitable place to access the Internet. Everybody who comes to use this house typically has their own cell phone so a land line was deemed superfluous. :( I should not have whined so much about hating dial-up I guess.
By the time we get settled in it's dark. But we decide to go for a drive around the town. It's a relatively pricey vacation town. Around summertime/Christmas it's crowded beyond belief, I'm told. The streets are clogged with tourists. But not now. It's quiet. Very pretty. We stop at the beach and walk around a while, dip our toes in the Indian Ocean surf, and then drive a bit more. I'm very surprised when we pull into a parking lot overlooking a very rocky area with waves crashing. It's lighted by spotlights and it's marvelous. I've never seen anything like this. I'll be sure to take a picture in the daylight. I don't quite know how to describe it. We stand and marvel at the waves for a long time before going home to bed. This is a great place!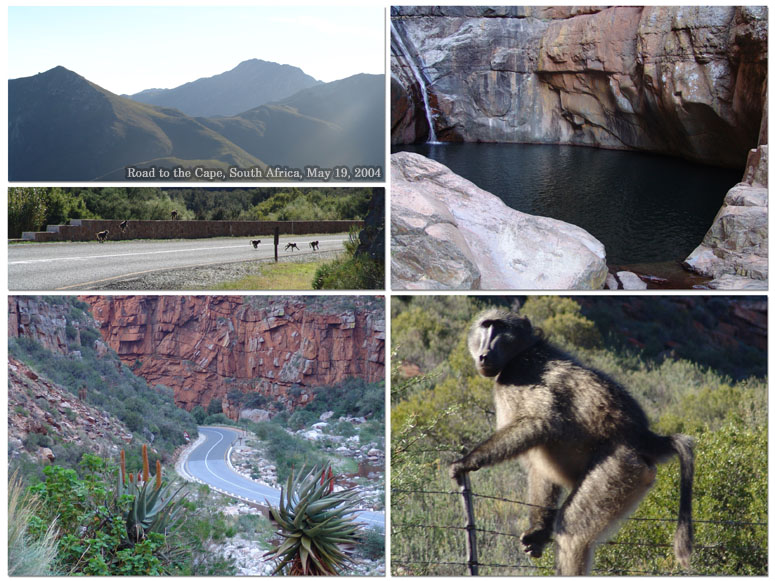 05.20.04 Nuzonsmur2
We admire the view from the roof in the morning light and we can hear the waves crashing. I can see the bay, the lighthouse, a peninsula that looks like a Greek island, mountains. I take lots of pictures. Bok's dad says this area "was given to the blacks but they didn't want it. And now it's the most valuable area." I'll probably find out some more about that one of these days. Certainly the area is valuable. Prices have about doubled since they thought about buying property here a year ago.
Most of the houses are either vacation homes (second homes, often not occupied) or else retirees. And they often have names, with small signs on the front of the house. The name given this house is Nuzonsmur2 which Bok says means "Now we're fucked." ROFL. The name on the house directly across the street translates to "Tired of ploughing" - and their license plates indicate they're from the Free State, the same as Bok's family. Lots of Afrikaaners are in this area, unlike much of the rest of the Cape area which is more English.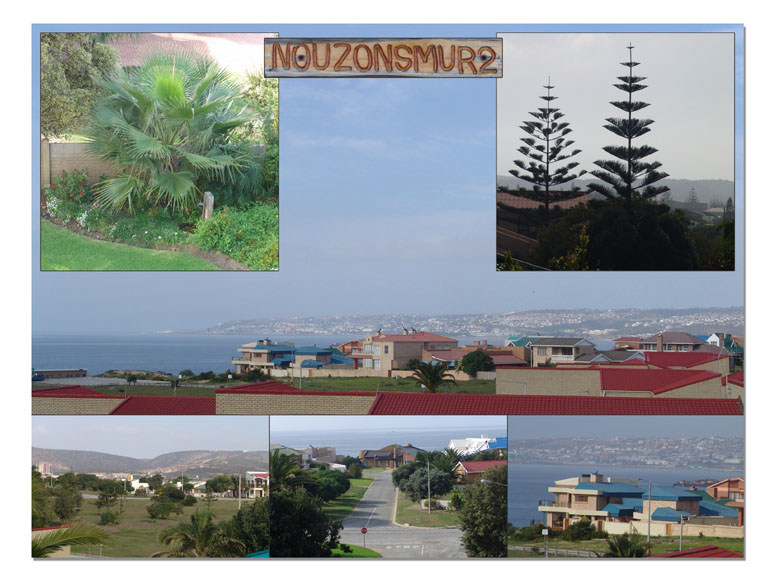 Another thing about this area is the black people are different. They're called CAYP-eeze. I don't know how it's spelled. Many of the black people are hardly black at all. They're sort of carmel colored. I asked if they're mixed race and it seems, no, that's just the way they always have been. Something to do with the distance from the equator, I guess.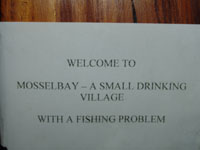 We decide to take a little drive around town and to pick up a few things. I also want to look for an Internet Café. The place I go first wants 75 cents a minute for dial-up and I can't use my own laptop. No good. But after several inquiries, I find one where I can plug in my own computer and it's only ½ Rand/minute for 512kbs! And Rands are about US$1.00 = R6.8 What a relief.
Walking around among the shops and streets, I keep getting mixed up, looking the wrong way to cross the street. If you haven't been to a place where they drive on the opposite side from what you're used to, I think it's hard to appreciate how difficult it is to remember this. Maybe it would be best if I just remember to use crosswalks. I'm taking lots and LOTS of pictures. This area is so much more photogenic than Wesselsbron!
As we look around the town I can't help thinking of Niagara Falls. The Falls is great but the town adjacent to it is a perfect sort of Hell. Hugely over-commercialized. This town, however, is still good. I want to live here!
05.23.04 George and Victoria Bay
This afternoon we need to go to the nearby town of George. It's nearer the mountains and there are forests. Fabulous. It reminds me of Washington state just west of the Cascade Mountains. Snoqualmie, where Twin Peaks was filmed. And then we drive a little further to a rocky cove called Victoria Bay. It's got lots of B & B's all in a row facing the beach. And there are surfers. It's a wonderful place. We talk to one of the owners (Lands End B&B) and she tells us the price. I immediately forget the price but it's cheap. Something around $30 or $40 per night, per person, double occupancy. Meals included. Quite a bargain, at least for the foreign tourists.
We go home and play bilingual Monopoly (Afrikaans and English). I win. But I'm also the banker so my win is suspect.
5.27.04 Mountains and Caves
We drive to George again. This is the fourth time. It's close. From there, we take a back road that connects to a mountain road. It's of gravel and winds high up into the mountains. It was built 160 years ago! It's got a rock wall protecting cars from going over the cliffs but there are some disturbing breaks in the wall.... There are pine forests and fabulous views. Sometimes we can see the ocean through the valleys. We stop a few times for pictures and to walk on short paths which give an even better view. There are lots of wildflowers. I had no idea that South Africa could look like this! Leopards live in these mountains. Presumably this is also where they hunt.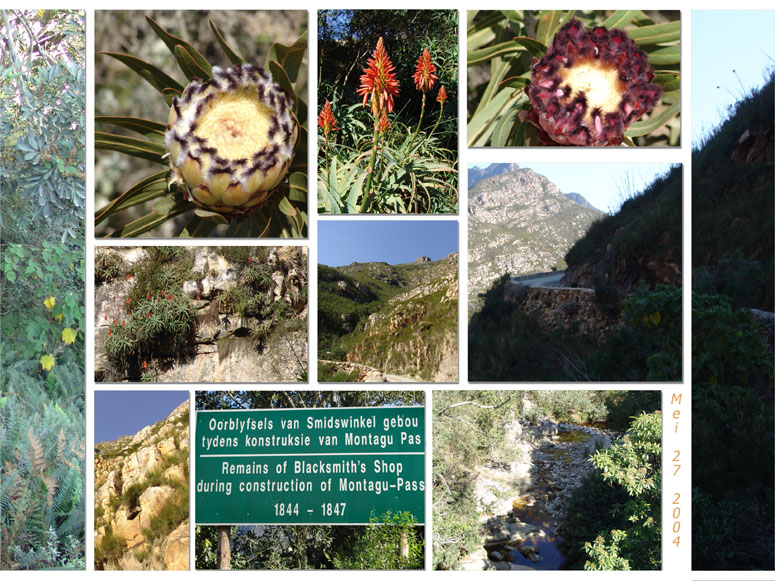 The far side of the mountain pass is a lot drier. Then we're back down in ostrich country. Close to the road we originally arrived by. We pass about 1000 ostriches and then we're on the road to Kango Cave. Bok was here several years ago with his family but it's a matter of dispute as to when exactly. One thing we are sure of, Bok's dad was thinner then.
The cave complex includes something called a chimney, they tell me, where one has to climb up through a very narrow passage that opens into the more remote areas. We wonder if Bok's dad will make it. His mom is definitely NOT going that far. She actually doesn't want to go in at all. We arrive and pay our R55 each (US$8) and grab a quick lunch before the next guided tour begins.
Near the entrance is a huge cavern called Van Zyl's Hall. They used to perform concerts here, our guide explains. It was occupied by bushment in ancient times and then rediscovered in the late 18th century by a white guy. He had only a candle the first time he was here! The guide shuts off all the lights except for a tiny bulb which approximates that guy's experience. Spooky. Happily, there are lots of lights here now.
The guide shows us where, for the first 12 years during which the cave was known, it was thought to end. A big pile of clay blocked the farther reaches. Visitors may now choose the regular tour 1.2 km each way. Or the Adventure Tour, about 2.4 km round trip. We have bought the latter, about 90 minutes. We have the benefit of cement floors and steps and rails but we can see areas which the guide explains is what the natural floor looks like. Very rough. Boulders and such. This is better. We pass all kinds of amazing formations. The Curtains are narrow (curtainlike, duh) white stones extending from the wall. The Drum Room is cool because you can knock on the solid rock and it produces an unexpectedly clear reverberation. Jacob's Ladder is 172 steps (each way) through what I (naively) take to be a narrow passage. It's the beginning of the Adventure portion. It's gonna get lots narrower than this.
Bok's mom takes one look around a corner into the Lumbago Walk and bails. Our guide is accustomed to this. He returns telling her to take deep, deep breaths. Recomposed, he advises her where to wait for the rest of us. And Bok's dad stays with her. On the guide's advice, we leave the camera as well. All three of these prove to have been exceptionally good choices....
The lumbago place is a wide, slightly-sloping passage where it's too low to stand and too far to crawl. You cross in a crouch. This is very tiring! The passages and the open areas have both become lots smaller. We have to take care not to bump our heads. And the rocks are damp and slippery. In place of steps and rails, we're lucky to have worn spots where we can get any sort of grip on the rocks. More laborious and also much more humid. But it all gets much worse.
The Devil's Chimney. Sigh. I'm thinking maybe I won't go through here. The guide says I don't have to, there's an alternate route. Against the wall is a sort of a crack and if you step into it there's a narrow passage up. Very narrow. Nearly straight up. When it's my turn, I take a look and Bok is up there waving me to come on in. Okay, well, it doesn't looks so far up. The guide is very helpful. There is a quite precise method to getting through here. Footing and handholds are hard to come by. When I reach the point where Bok waved to me, I realize there's quite a lot farther to go. It's too late now, I'm committed. I have a feeling that Nature never intended for people to come here!
At last, I'm through. I have a few minutes to catch my breath before we hear our guide calling to us from ahead. We climb up some more and find ourselves on a sort of a ledge. Low ledge. And getting lower. We are now called upon to lie down flat and slide down the aptly-named Letter Box to the floor where our guide is waiting. It's a tight squeeze but we all get through. I'm exhausted and sweaty, but it's been exhilarating! Bok's mom, now recovered, laughs at me that I looks so spent. We take as many more pictures as possible on the way out. That was QUITE an experience. I'm very glad I did the whole thing but I do think that the next time I'll pass on the last bit. Once will suffice. A young woman on with us on the tour claims that her grandmother did the whole thing at the age of 70. I find that difficult to believe but refrain from commenting. These Afrikaaners are pretty tough.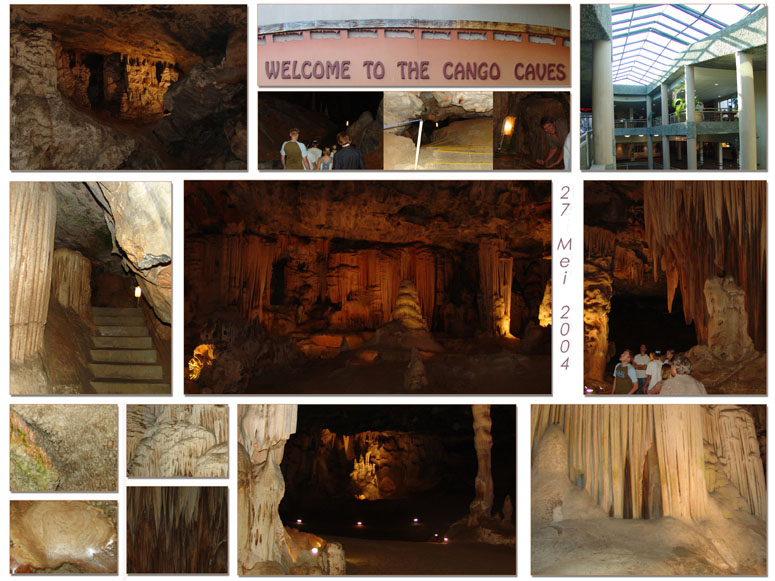 On the way back we stop at a gift shop and I think I've decided what to send to "Fruity Pebbles" as a souvenir. ROFL. Bok agrees with me. It's totally the perfect choice! (If anybody else wants me to purchase them a special souvenir, please get in touch.) I can receive cash through PayPal where I have an associated with the email address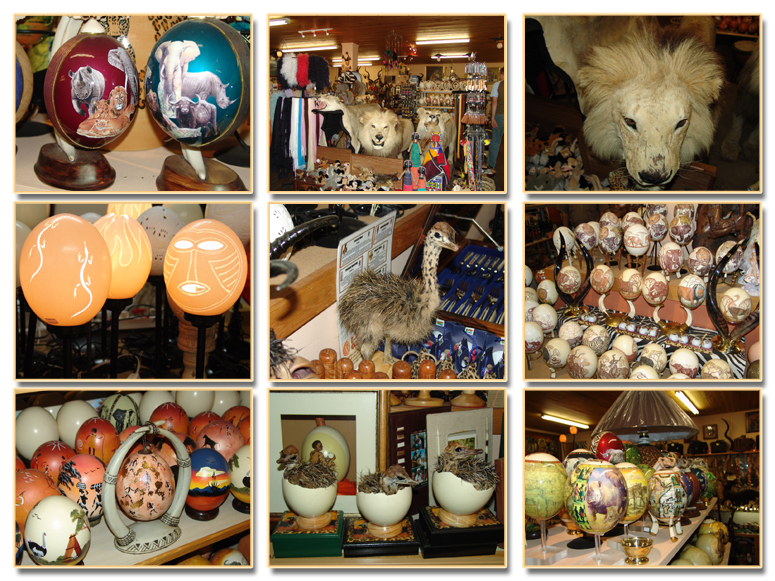 As if we hadn't had enough excitement today, Bok and I decide to go into Mosselbay for a bit of socializing. Our favorite pub has just the right level of activity (IMO). Not too noisy, not too quiet. We strike up a conversation with another group. Two of them are swimmers who think they ought to be on the RSA Olympic team going to Athens. They're kind of drunk but their story seems to be that this country is a mess now and they'd like to leave to Australia or, ideally, to America.
They think it's terribly unfair that less qualified black athletes were chosen over white athletes. Not knowing the actual details, I cannot venture a solid opinion, but I certainly agree with them in principle. However. Wasn't it only a few years ago that the RSA routinely sent all-white teams to the Olympics? They are quick to respond that only their parents' generation was responsible and they ought not to be made to pay for that. Well, yeah, but still. It's not like this is an original idea on the part of the newly-black RSA Olympic Committee. We're back to the same idea I've heard before here a few times. That the society is not going to get itself straightened out here for another two or three generations. People who lived through Apartheid, both black and white, have to move off of center stage before real peace and progress can occur.
The trouble is that by then these two will likely have found greener pastures in some other country where they'll do South Africa no good at all. One of them is studying engineering. He's just the sort of citizen this country ought to treasure. But it doesn't. The whites were wise to put a stop to their particular form of madness 10 years ago. One hopes that the blacks here will shortly arrive at a similar decision regarding their own destructive and unsustainable policies.
It's so difficult to arrive at a firm opinion as to whether I should be basically optimistic or pessimistic about this country's future. What is clear is that the Cape area is more socially advanced than the Free State. That's regarded as a culturally backward region. Farmers are not supposed to be at the cutting edge of social development so it's fine. It's just that I wasn't getting a very good picture of the country as a whole from there. The swimmers mention they have black friends - in contrast to the Free State whites who typically would never even think of having black friends; and who, incidentally, are unapologetic about this state of affairs.
When we're leaving the bar to go home (4AM) we happen to find the swimmers in the street with one of their black friends whom they happen to bump into. It must sound perfectly silly to somebody from a regular country but here this scene struck me as marvelous. White and black friends chatting and laughing together in public. I'm pretty sure that in the two months I've been here I've not seen anything comparable. I'm not sure whether to read this as cause for optimism or for pessimism.
Beyond the inescapable issue of race, the particular reason I've been wondering about the optimism question is because I watched an interview on the SABC news a few days ago with the ambassador from Cuba. This was very depressing. Nothing but softball questions. So indulgent. The interviewer offered the comment that the Cuban people are "well disciplined." She seemed to think this was a very fine thing, allowing the country to keep its focus and advance toward its goals. "Some people might call it something else" was all she had to offer to viewers aware that they were discussing a police state.
President Mbeke has visited Cuba and seems to admire Castro. He also admires President Mugabe of Zimbabwe, Qaddaffi of Libya, and (former) President Aristide of Haiti. What in the world is going on here? They have freedom of the press but the government seems to go out of its way to state its admiration for tyrranical dictatorships. I'm wondering if maybe they're trying to move this country to be less free. If so, then I suppose that one way to approach it would be to tell people over and over that those countries are pretty good models of how a country ought to be run. And the ANC now holds an absolute majority, more than two-thirds of Parliament, enough to allow it to do anything at all that it sets its mind to.
The Apartheid governments here always argued that they didn't dare to give blacks a say in government because, "look around you" at the neighboring black-run governments. They were (and are) tyrranical and incompetent. Indeed, their black citizens where fleeing here in droves preferring to live with the indignities of Apartheid, and even while liberals in the West praised the "front line states," who were leading the fight against Apartheid. (That was so weird.) Generally, the ANC has in these past 10 years allayed everybody's worst fears but neither have they inspired unbridled optimism.
5.28.04 Haiti in the News
In the news today, it is announced that former Haitian President Aristide will be arriving here in the next couple of days to take of residence in South Africa. The white people here are very pissed off about this.
And there's been a flood in Haiti and the Dominican Republic with hundreds dead or missing. The worst hit town is called Jimani. I've been to this town! We drove through it on the way between Port-au-Prince and Santo Domingo. What's interesting is that it's where we had to drive off of the highway and through a rough detour down into the riverbed and back up the other side - because the bridge had been washed out by a flood some time earlier. So this flood cannot have been a very great surprise! It was such a nice town, too. We really admired how nicely the simple homes were kept and how most of them were painted in bright colors. Now the whole town is washed away.
Today I make two new postcards from photos I took yesterday. Looking through the pictures, I really am amazed at what a great adventure yesterday was! So many terrific experiences. And now I have two mementos from it. I'm loving these postcards, especially the two new ones. But I always love the newest ones the best. I've made close to ten so far. Computer monitors do not do them justice. They need to be printed as photos to be properly appreciated. I'm kind of going a little overboard making them. They're my new passion.
5.31.04 Herolds Bay
Bok's grandmother is in town and we all went to another of the pretty little coves near here. These cards also work for a desktop, if you want. But then you might need to resize the picture or it won't look quite right. Just be sure to grab the large version, by clicking the pictures.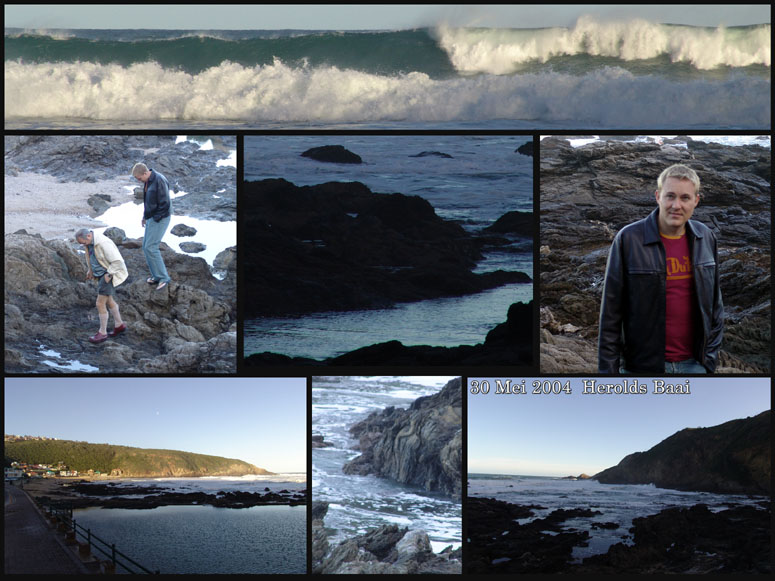 5.31.04 Miscellaneous Observations
Not much went on today. We did some shopping and some Internet'ing. We also went to a casino and Bok's mom was happy - she won over 4000 Rands on a 5 cent machine. :)
There are few items I've been meaning to mention and never got around to it. They divide up Rands into units, like in America. But you never call the 10 cents 'dimes' or the 5 cents 'nickels.' That confuses people here. Ketchup. It's not called that here, it's called Tomato Sauce. American style ketchup has too much zing for the Afrikaner palate. It's about the same consistency but less flavorful. The food here is never spicy. There's a Thai restaurant in Mossel Bay - I wonder if anyone goes there. Or maybe it's only bland Thai food? I miss ketchup.
And I have a craving for Nachos. I'm going to need some proper nachos soon after arriving home to America. And also some fries with proper ketchup.
The casinos here are much less user-friendly than in Las Vegas. First, you have to pay to park at them. How bizarre! And then you have to pass security on the way in, including a metal detector. The guards will store your camera and handguns for you, and also your coat if you wish. This also does not happen in Vegas. You're not allowed to bring a camera inside of a casino here. Trade secrets? Maybe they're worried the robbers will come with cameras to scout the place, I don't know. Crime is a very serious problem here. Oh, and you are not allowed to sit in a vehicle waiting for your companions to finish gambling. Guards will come and chase you away!
The shopping malls and major stores, even grocery stores, typically have uniformed guards patrolling the parking lot. If they're not uniformed then there are some rather sad-looking regular folks - generally white - wandering around parking lots offering to watch your car. You're expected to tip them a few coins when you come back and find that all is well. I observed something similar in Haiti. The white people performing this task always look inbred to me!
The main public beach here in Mossel Bay has a kind of an underwater fence out a ways from the beach. I can see the floating thingies that hold it up. It's for keeping away the sharks! I've never been to a beach before where the sharks were such a problem! Bok told me he was here one time and sharks were spotted. The water was cleared in seconds. People were ready primed to flee on a moment's notice - no explanations or urging was required.
Tugelossie. Well, this is an interesting bit of black African mythology. Bok and his dad told me about it a few weeks ago and then just a few days ago we watched a South African movie which revolved around it. Apparently, all or most of the various black tribal groups here have a traditional belief in this creature. The Tugelossie (pron. too-go-LOW-see) is a short guy, maybe 3 feet high or less. Think of a dangerous leprochaun. He comes in the night and attacks people in their sleep. The Tugelossie has a penis so large that he carries it tossed back over his shoulder. Out of fear of him, the black people like to sleep on beds that are elevated higher than would be otherwise expected.
I've heard this story so many times. It's always recounted rather breathlessly. Earnestly. It's anecdotal evidence of the rampant corruption: A black woman went to a car dealership, wanted to buy a car. They checked her credit and it turned out she makes so much money at her government job they offered to sell her any car on the lot on credit. No, you don't understand, said the woman. She only gets to keep half that money. The rest goes to the guy who got her the job. Along with the story always goes the same promise, "I swear it's a true story." I wouldn't be surprised. A related story is of people with government jobs who don't even know what their job is. Maybe they don't even show up for the job. Or maybe they show up and never do anything. There were people with these kind of "jobs" in Haiti under Aristide.
Another thing I want to mention are the rest areas. There are few nice ones. And there are places built right along the highway with gasoline, fast food and convenience stores. Unremarkable. The interesting thing is the most common type of rest area: It's just a picnic table under a tree right next to the road. Like five feet off the pavement. Very, very common. And weird. I never saw anybody using them.
The only other item I can think to mention here is that when I go to use the ATM sometimes the machine offers to guide me in about 8 or 10 languages! There are 10 official languages, as I may have mentioned earlier. In Canada, I only got to choose between English and French. And in the USA, sometimes between English and Spanish. In San Francisco's Chinatown I seem to remember being offered Mandarin but that's unusual. Language is complicated here. Often when Bok makes a call the first words are, "Do you speak English or Afrikaans." Very often they end up agreeing on English. Except if the call is made within the Free State where Afrikaans is always preferred.
6.3.04 Parliament
I just watched a Parliamentary debate for an hour. It was a presentation by the Foreign Affairs Minister, a remarkably stupid black woman. Followed by the much more intelligent Deputy Minister, a man of Indian heritage. Followed by the presentation by the foreign affairs spokesman from the Democratic Alliance, the most popular white party and now the principal opposition party here. Sadly, he was cut off after only about two minutes as SABC3 went on to other programing. (I suspect a conspiracy, I really do.)
According to the RSA Foreign Minister, Africa is getting better all the time. She provided precious little basis for her stated optimism. She also went on at great length about the government's ideals such as eliminating poverty and racism. Apparently, these goals are to be achieved simply by the RSA launching or joining every imaginable international commission and attending every possible international conference. IOW, lots and lots of talking. I fail to discern much connection between the two. The aphorism, "The road to hell is paved with good intentions," may be apt here.
As it happens, I just read a news article this very morning stating that Africa is now significantly more impovershed than it was directly following decolonization. That article cited all sorts of problems, including the lack of Rule of Law, corruption, and the frequent reversals of government policies so that nobody can anticipate with any confidence what tomorrow may bring, and hence nobody is willing to invest in Africa.
The weirdest thing is that while she mentioned all sorts of countries by name, she never once mention the USA directly. She did worry a lot about the way "certain countries" characterize others as "failed states," and thought this to be perfectly reprehensible. Gee, I thought it was just stating the obvious. (Haiti comes first to my mind.) On Haiti specifically, she thinks that Aristide is some kind of hero of the "African Diaspora." I don't exactly know why she was so circumspect in criticizing the USA. She also had lots of criticism for Israel and no complaints at all about Palestinian terrorists. And nothing to say about the ongoing issue of Iranian nuclear weapons development. And she was delighted at the level of cooperation with Castro's Cuba. The government here clearly has very different priorities from those of the USA. She might have at least mentioned those and then stated the differences.
Naturally, she also had something to say about racism, slavery and colonization. Until the end of time, perhaps, there will always be black leaders who refuse to accept that black people everywhere share any responsibility for their own problems, and will always play The Victim Card.
The other very weird thing was that while she mentioned human rights many times she never once found it fitting to mention the erosion of human rights in neighboring Zimbabwe under President Mbeke's pal President Mugabe. In the same news report they mentioned that Zimbabwe has lost more ground than any other African country in terms of human rights, press freedom, and economic security. They don't even have enough food anymore but she never mentioned anything at all about the situation just across the border. She was far more interested in far-off Israel's construction of a wall to keep out the mad bombers, an issue which has little or nothing to do with South Africa.
She and her deputy must have said multilateral about 200 times between them. They assert that all countries have an inherent right to an equal voice in international affairs. Perfectly ludicrous.
The DA's representative was just getting started before they cut away. He praised Mandela for setting the country on its idealistic course and then began to criticize the way the present government has undermined that hard-earned moral authority by its uneven application of such principles in places like Zimbabwe and Haiti. I would have liked to hear more.
I'm feeling pessimistic about South Africa's future today.
6.4.04 Crazy Gods
In the grocery store today we notice ostrich hot dogs. That's a new one! It also reminds me to mention biltong. This is a favorite snack food. It's like beef jerky. Only it's not always beef. Sometimes it's some kind of deer. Sometimes it's ostrich. Sometimes it's even more exotic. It's real good. You can buy it everywhere. And there are shops which specialize. Afrikaaners are very particular about their biltong. Koreans have their kim-chee and Afrikaaners their biltong. It's a staple here. I don't know how I've neglected to mention it all this time!
When we loaded the groceries into the combi (the van) a little black boy came along and took hold of the cart waiting for us to finish. It was clear he wanted to be tipped to return the cart for us. All I had was a five Rand coin so Bok said to give it to him. A dollar is 6.4 Rand so it was a big tip for a hopelessly impoverished 7-year-old . He was happy. But then just as we were about to drive away I noticed he'd just dumped the cart in a corner and was running away! I laughed. He was not earning his tip! So Bok shouted at him in Afrikaans. He went back and did it right. Maybe you just had to be there, but it was so funny the look of horrified surprise on his face. LOL.
Speaking of the Rand, it's value has been swinging from more than 7 to the dollar to under 6.4 just while I've been here. A 10% range in a few weeks is a lot, and it's confusing.
AyayayayYI, what a funny movie! We watched The Gods Must Be Crazy tonight. I haven't seen it in years and I knew I loved it but I couldn't remember why exactly. Now I remember. This is really a MUST-SEE movie for everybody. (And it's easier to find than Mr Bones, which I recommended a few weeks ago.) It's one of those no-budget surprise hit movies that come along every so often. From 1980. It's about some bushmen with no experience of civilization at all until they find a Coke bottle and that's how the trouble starts. Well, there's lots more to it than that. It's such a funny and charming movie.
One thing I remember wondering when I watched it two or three times way long time ago. Is it true that rhinocerouses will stomp out a camp fire? According to my Afrikaaner sources, the answer is yes. And that's a real type of bush with leaves that will grab you. And the scene at the end, where the Coke bottle is thrown off the edge of the world? It was filmed at a place called God's Window here in South Africa. It's someplace up near the Kruger National Park. Bok's been there and he feels that the name is exactly appropriate for such a marvelous place.
6.05.04 Segregated Drinking
A friend has arrived for a two-week visit from up in the Free State. He's never been to Mosselbaai before so we show him around, including a brief stop at a bar on a pier. It looks like the sort of place you might find in New England. Maybe fishermen bars are much the same all over.
Another item I've been meaning to mention is my observation that you never see black people as patrons in any of the ordinary bars and restaurants. At least I never have. Back in tiny Wesselsbron there is an obscure "black bar." Maybe there are places like that someplace around here. Probably. Under the ANC it's impossible that the bars are legally either black or white so it must be a matter of custom and culture. Most members of both major races here must have no interest at all in dining and drinking with the other color of people. I wonder what the black foreign tourists here do? I wonder if they're welcomed in the places we go to here. It's the off-season now and tourists are between few and none.
6.6.04 R.I.P. Ronnie
It's Sunday evening and I just now found out that Ronald Reagan died yesterday. It's not so terribly sad, under the circumstances. The shocking thing is it escaped my notice for about a full day. I'm feeling like I'm at the far end of the world.
I love Ronnie dearly and credit him with having saved the world from WWIII. And with having rescued America from its severe funk brought on by Watergate and then compounded by Jimmy Carter's incompetence. Morning in America. I always intended to turn my web page black the day he died. That's not convenient right now so this will have to do.
We stop in to a pub tonight and I noticed one black guy sitting at the bar. Simply amazing.
I need some cash so, no problem, there's a 7-11 a few doors down. "Do you have an ATM?" "Unfortunately, not." "Do you take credit cards?"" "Unfortunately, not." Unfortunately the local 7-11's bear little resemblance to their American cousins. (More likely, they're not actually related.) ATM's are not nearly so numerous here as in America.
Well, that gets us to talking about the banking system. Bok and I tell the two South Africans we're with about how convenient it is to pay for American groceries with a debit card. "Cash back?" They go sort of all dreamy. That's the same way they get when we talk about our inexpensive high-speed always-on Internet. There are a lot of advantages to living in a developed country. Course, we don't have maids and that has to count for something too.
6.7.04
A quick trip to another convenience store this morning. We're carrying empty liter jugs. OMG. Back in the corner is a big steel container with a faucet. We fill the jugs with milk. How perfectly bizarre. Well, I got used to buying milk in plastic bags in Canada so I guess I can get used to this, too.
It's cold and wet today. Winter is very much upon us. And it's supposed to get lots colder and wetter later this week. As far as I know, we're still planning to go to Cape Town this week. We're not going to see it at its best.
6.8.04 Afrikaaner Humor
We went out with Bok's cousin and her boyfriend tonight. I miss a lot of what's going on, on account of the language problem but there's a scene at dinner. The couple has both ordered 'Stuffed Ostrich' from the menu. When it arrives there's much fussing from their end of the table. It turns out that Bok has paid the waitress to help him to perform a practical joke. In place of Ostrich they've been served feta cheese on bread. "That's what we call Stuffed Ostrich here!" insists the waitress. Bok's dad mutters that it looks like a case for a lawyer. Bok is in hysterics. The cousin's dismay is compounded when the feta cheese plates are taken away. The joke is revealed when their proper plates are delivered and Bok reveals his role as the joker.
They take their humor very seriously here.
Later on, we're back at the fishermen-themed pub where the same victim is placed beneath a bucket of water near the bar. I'm shocked when they really do dump a bucket of cold water on her. Recall, it's nearly winter here now and it's cold. They tell me that when it's warm they like to tack money to the floor beneath the bucket and, "We get catch somebody about every five minutes." This is believable. In part because the bucket can be refilled easily by use of a control behind the bar. And because it's clear they've got few qualms about launching this kind of assault on one another for kicks.
As soon as she's dried off and has changed her shirt the cousin goes directly to the place at the bar where the rope is hidden, and dumps buckets one after the other at strangers as they pass nearby. She misses both of them but not for lack of having made a sincere effort.
Cape Town is not on for this week, after all. But it is now certain that I'm going to take a side-trip to Washington, DC, instead of returning directly home to Las Vegas. That's in just over a month. I leave here, July 10.
6.9.04 Knysna
It's a nice sunny day so we decide to drive to Knysna (pron. NICE-nuh) voted the best town in South Africa. It's about 100km West of Mossel Bay, beyond George. Along the way we pass a lot of marshy wetlands all full of birds, small lakes, forest, small mountains. Very beautiful. Knysna is a quiet touristy town with many little shops and cafés.
It's a bit early and it's off-season so all the best places are not open. We end up having lunch at KFC, this country's most successful American fast-food chain. You almost never see it called by its full name, only the initials. I don't know why that is.
We drive around lost for a while, enjoying the town, and finally find our way to The Heads. These comprise a break in the high coastline where the tides wash in and out of the saltwater marsh which borders the town. There's a path with rails and outlooks where we can see way down to the crashing surf. Fabulous. We take lots of pictures. And we admire the wildly expensive homes built here. Most of them seem to be vacant at present, as if, incredibly, the owners have even better places to be right now. There's even a small beach amid the rocks, but it's in shadow so at least it's understandable why that's unoccupied.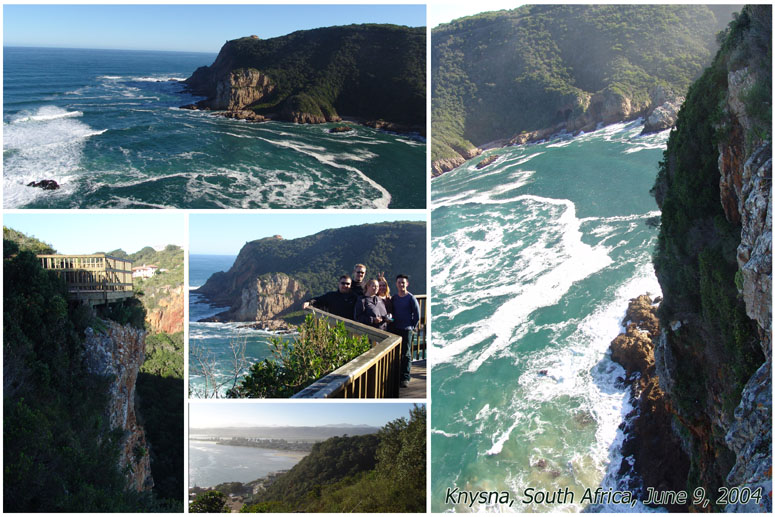 Back in the town we visit the harbor. It's all for tourists. Upscale shops, sail boats, canals, a kayaker, outdoor cafés. Again, it's all very beautiful. And a perfect day. Very quiet. We're glad to be here on the off season. After strolling around a while, we enjoy a snack and some beers.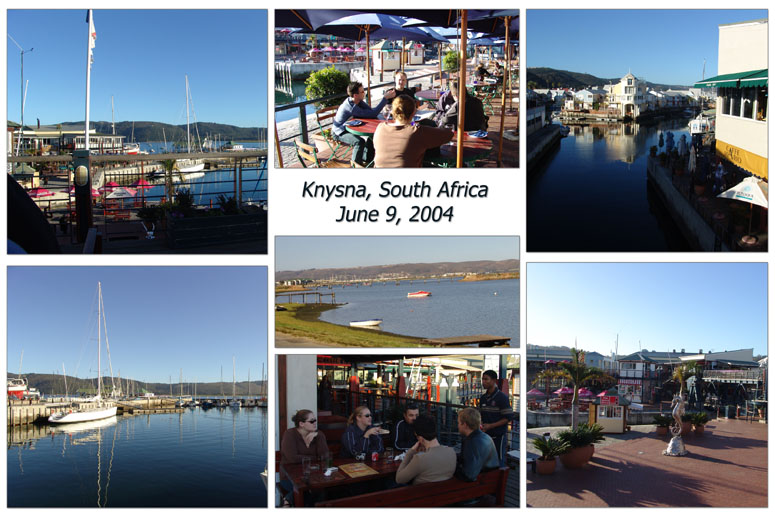 A little while longer exploring the town and it's dark, and getting cold. Time to go back home. It's not far so maybe we'll come back here again in the next few days.
6.11.04
Tonight it's another brie (barbeque). We have a lot of those. This time we're over at the chalet that Bok's cousin and her boyfriend have rented here. It's outdoors and overlooking the beach. Too bad it's so cold tonight. Some of us get warm by drinking brandy and Coke. The others get warm by walking on the beach. It's so quiet now but the cousin tells me this is a crazy place on New Years Eve. At midnight lots of very drunk Afrikaaner men whip off their clothes and run naked into the ocean. I have a hard time imagining Christmas during summer but it's much easier to imagine New Years in summer.
6.12.04 Clubbing in George
Tonight we're going to George. We took naps so we'll probably be out way late. OTOH, it's not a very big town and it being the off season, we might get bored soon. We're rested and ready for whatever the evening may hold in store.
While I'm waiting for Bok to get ready, I just remembered another of those minor curiosities about South Africa. The stop lights are called Robots. As in, "turn left at the second robot." ROFL. I just love that.
We had a snack yesterday at a little fast food place in town. The Pie Shop. I expected apple, pumpkin, that sort of thing. But it's more like chicken pot pie sandwiches. It was good! Much thicker crust than the familiar American variety, so it works like a sandwich. Good non-greasy 'walking down the street' food. And what a bargain for only 5 Rand (75 cents).
Did I mention that the town of George was named after King George III? George Washington's nemesis!
6.13.04 Winter Swim
Last night we talked to all sorts of people. I mostly talked to an Englishman who's lived in South Africa for several years. He told me that in Cape Town the largest group of people are the Coloreds. Meaning, people of mixed race. I had to laugh and comment that I barely have ever seen black and white people talk to one another. I didn't see how they were ever going to make mixed-race babies together. He pointed out that the Dutch have been here for like 500 years leaving a lot of time for the race-mixing. Even if it's relatively rare it all adds up.
He said we should definitely get over there. I hope we do! Our plans somehow don't always quite get put into action. He mentioned that the table rock mountain is in the center of the city and there's a tunnel through it. I didn't know that! (I thought the city was just built in front of it.)
The beach is only a block away. Bok says we must go there and swim but nobody will commit to swimming with him so he's unhappy. Winter is days away, the wrong time for ocean swimming. So we drive around town a while in the afternoon and stop for milkshakes. Most places are closed on Sundays.
Before dinner, we go for a walk at the beach. We find that if you roll up your pants and walk barefoot in the surf it's surprisingly comfortable! I'm still getting splashed and, since it's dark and there's nobody around at all pretty soon I just take off my pants and walk in the surf wearing boxer shorts.
Bok gets involved in a long conversation and I don't want to go back to the house so after walking around a while I go for a swim. It's great! Our friend Riaan seems like he wants to go in - he's even brought along a towel - but then he doesn't. When Bok is ready he too seems to want to go it, "Let's all go in!"" But he wimps out. So we walk back home for dinner. Bok's mom says I must be crazy to swim this time of year.
After dinner the doorbell rings. Bok's mom comes back upstairs. She's upset. The police are here in response to a report of somebody swimming naked at the beach (illegal) and the complainant believes that the culprit is here in this house.
She told them she'd be right back but they told her they'd come back later, and they're gone by the time we come down to talk to them. Bok says they were just trying to scare us (meaning mostly me) and they won't come back. I say, "I'll say, 'I don't know what you're talking about.'" Bok's dad says it's the whale season and sometimes people use night vision cameras to film them in the bay, so maybe there's photographic evidence. I say, I'll take the chance. I don't intend to confess.
Sheesh. It's just unbelievable to me that you can get into trouble swimming naked on a deserted African beach at night.
6.14.04
Have I mentioned there are three national sports in South Africa? Rugby, rape (especially of children), and car-jacking. One would imagine that these might suffice to more than sufficiently occupy the time of the local police.
It's a cold and rainy day here. I keep telling people that when we get home it will be about 45 or 50 degrees Celsius. Then I'll treasure the cool weather we've had here recently.
6.15.04 Whales
It's another driving day. Nice weather for it, too. Knysna and beyond! There are forests the near side of Knysna but nothing like those on the other side. I don't remember exactly how a temperate rainforest is defined but this is at least in the ballpark. Lush. And we pass lots of deep canyons that bring rivers and streams to the ocean. I think I've already exhausted all the available superlatives and so I'll just settle for very beautiful this time.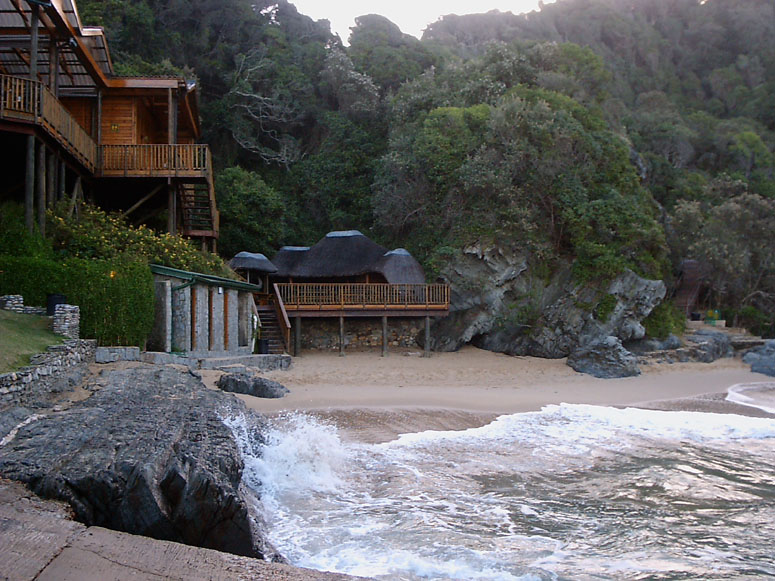 One of the canyons boasts "The highest bungie jump in the world, by far!" Nobody was jumping when we passed it but it's real high and the setting is perfect with a view of the ocean.
Bok's grandmother has been in a national park on the shore for a few days now, with her husband and their caravan (RV). We go to see her (and also the park). She's fine, btw. The shore here is the best yet. The waves make such fierce explosions when they crash. Really, they're just like explosions when they hit and then the splash goes up very high.
The park is a couple of miles long. And above it is a high cliff with the most exotic looking trees. Bok suggested they look like Jurassic Park. Very apt. It's a wonderful place.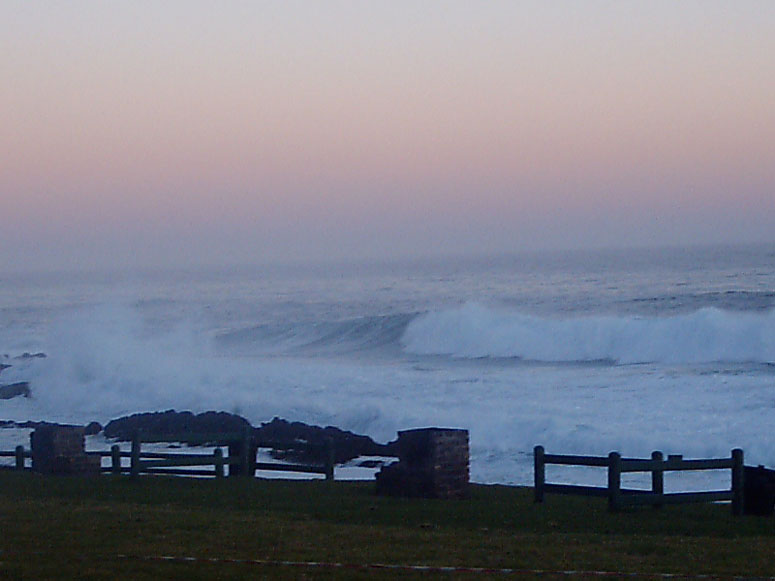 It's the beginning of the whale season here at the Cape. We heard there've been whales spotted in the distance. Southern Right Whales. Naturally, we scan the horizon for a long time. And sure enough, it's unmistakable. Can't be anything else but a whale. A disturbance in the distance and a huge spray of water. Not much, to be honest, but we'll take it!
Especially since we have seen none of the official Big Five: elephant, lion, leopard, bison, rhinocerous.
I pick up an English language newspaper. It's Youth Day in South Africa. The date was chosen because on this date about 20 years ago there was a big student protest against the mandatory Afrikaans language classes. "The language of the oppressor." A shocking number of children were shot and killed by the police.
06.17.04 Dolphins
It's a beautiful sunny cool day again. We decided to drive into the town of Mosselbaai to look around. The town is located at the edge of the bay itself and I'm thinking about whales again. "So, this bay is where the whales like to come this time of year?" I'm told that's right. And that we're just coming into the right season for them. So we're all looking out at the bay as we drive. Somebody spots something peculiar going on so we stop. Dolphins! The seem to be juveniles, quite small. We stop and watch them playing for a while, just 50 or 100 yards from the beach. It's suggested that we go swim with them but there's the possibility of sharks, too, so nobody takes the plunge. No whales.
In town we stop at the museum. It's full of artifacts and photos from the town's history. There are actually three buildings. Another is the aquarium, with lots of live fish and shellfish. And HUGE whale bones. And the maritime museum featuring a full-size replica of the ship of the first white sailor, from Portugal, ever to visit this area.
And we wander in the gift shops. Lots of cool things. Most of it very cheap. I find it difficult to choose so I don't choose anything. I really must load up on souvenirs at some point. There's only a little more than three weeks left here.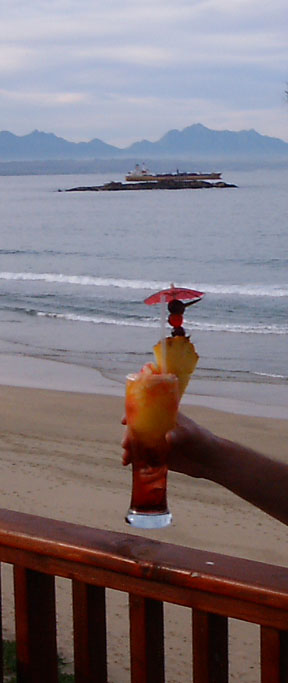 After a visit to the Internet Cafe, where I'm now a regular and greeted by name, we decide to stop by the Pirates Tower. It's a bar on top of a kind of platform, right on the beach. We were here last week and a friend with us ordered some kind of fruity drink which was very pretty. I already had a beer before I saw how pretty it was. Ever since then I've been whining about wanting to come back here for 'pretty drinks.' LOL. Besides the pretty colors of the drinks themselves, they come complete with pineapple slices on a stick along with grapes and things. And, of course, with pretty little bitty umbrellas on them. I can't remember when I've ever actually ordered a drink like this before!
It's very hard to choose so we just order a bunch of different kinds and pass them around. The prices are in the range of 25 Rand = US$4 each. I expect they'd run about $20 each back in Vegas. We're on an open patio and we're still looking for whales. There are two surfers. They paddle and paddle and never surf. Waiting for the big one, I guess. Then they leave. Then the dolphins come back, very near to us. Pretty drinks and dolphins and the Indian Ocean. Life is very good.
The bartender is a perfectly charming black woman. I remark to her, "Don't you speak Afrikaans with a different accent from what I'm used to?" I tell her I like it very much (which is very true) and Bok tells me it's a Caypie accent. I feel so pleased with myself that I can notice something like that now. (How in the world do you spell KAY-pee, I wonder?)
Have I mentioned, most of the blacks one meets down here are far more civilized than those back in farm country. Again, it's embarrassing but unavoidable to notice this sort of thing. They're so much more a part of modernity here, sometimes apparently entirely so and other times at least well on the way. This was not the case in The Free State where nothing even remotely modern seems ever to get done properly without the benefit of white supervision. I mention this because I'm so impressed by the quickness and efficiency of both of the black bartenders.
These comments are not so much about race, as such, as about culture. The culture of the blacks down in the Cape is better adapted to modernity. Just as, in quite different aspects, the culture of the whites in this country - thinking of Apartheid - is not quite so well adapted to modernity as in many other countries.
Gosh! I had a thought just now and copied the complete journal into Word and ran the word count tool. Up until this paragraph, the total is 21,528 words. Is it any wonder so few people have read it all?
6.19.04 The K Word
I've written all these words and I have not mentioned the word Kaffir. It's the derogatory term used here by whites for blacks. It's used very freely by most everybody I've met. It's at least as bad as the N-word in America but they don't feel inhibited about using it in polite company. I always groan when I hear it. The explanation they offer me is that the blacks have equally rude words to describe whites. Which is unsurprising. Blacks also apply rude terms to refer to people from other black tribes. They don't like each other, either, you know. It's not only the whites who are racist here!
It has been explained to me that the original meaning of this word is, "people who do not know God." IOW, heathens. Of course, I don't know exactly how if a black person cuts you off in traffic or is unhelpful when you're phoning customer service about your account you are then able to infer the nature of their relationship with God, or lack therof.
The celebrations of "Ten Years of Democracy" are tapering off now. But the Coke cans still carry commemorations printed on the cans. I have been reminded recently by whites that they had Democracy for a long time before 1994, "just not everybody was enfranchised." In which context I was asked when women began to be allowed to vote in the USA. About 1920 (earlier in some states). "See?" Hmmm. I don't think it's their strongest argument but it's a valid point.
The strongest argument, in my mind, would be "Just look at Zimbabwe." Starvation, increased poverty, no accountability by the government to anybody, no more free press. They were clearly better off under white or colonial rule. And now the insane dictator is buying US$250 Million in jet fighters while his people starve. I'm reminded of Italy. There was some hesitation throughout Europe before they gave up their local currencies in favor of the Euro. Reluctance to cede control to Brussels. But, conspicuously, not in Italy. The lira was always such a disaster Italians were more than happy to entrust that power to somebody other than to Italians. The argument here that everything would be better for blacks if only blacks were in charge is mostly unsupportable. Afrikaaner rule was often brutal but it was more efficient. Just like Mussolini was said to have gotten the trains to run on time.
I tend to swing back and forth in some of the particulars about this country and its history but there's one conclusion that's steady: Afrikaaners had a right to defend their property and their economy and their culture up to a point. But when the only way to defend these is to become evil then these become not worth defending.
I wonder what would happen if in a few years the blacks in Zimbabwe got so desperate they invited the Afrikaaners to come over there and take charge. And maybe this time the Afrikaaners would avoid all the more unpleasant aspects of white rule and get Zimbabwe fixed up and running again. Absolutely nothing like that will ever happen but it's interesting to consider what if it did.
6.22.04 Sheep Head
They been talking to me about eating sheep head for going on three months now and tonight's the night. Not the night for me to eat it, of course. I mean it's the night when they have baked it for dinner. It looks perfectly monstrous. Bok and his dad, however, make a big show of eating it. Uggh. And then they keep on insisting that I eat it. They won't let up! No, thank you. Really. No.
6.28.04 Back from the Beach
Such a sunny warm day and this is the day we have to leave Mosselbaii to return to Wesselsbron in the Free State. It's about 1000km (600 miles).
At one point, we thought we'd bring along a maid but that never happened. And since we're borrowing the use of the house from Bok's uncle it's important to leave everything as clean as can be. So we have a small army of 11 cleaners come by the house in the morning. Very typical: One white woman supervising 10 black people. It costs 700 Rand, a little more than US$100 and they finish going doing everything in about 3 hours. As much as white people complain about the black people here, I just don't know how they'd manage without such an abundance of cheap labor.
Before we're on the road for very long, we're passing the ostrich farming region and Bok remembers that we still have no good photos of ostriches, so we take a bunch. Including some close-ups across a fence by the highway. I'm glad we got that problem solved!
No baboons this time. We saw so many on the way in but we're going back by a different road. In baboon-related news, at one point Bok's dad recalls that one time right along here he saw "a baboon catching a sheep." I didn't know they ever hunted anything big! I gather this behavior is someplace in the range of uncommon but not unheard of.
We've got less than two weeks before we leave now. It's nearly time to say goodbye to water that drains in reverse, the Southern Cross, and the winter. We plan to be in Johannesburg later this week for a few days.
6.29.04 Crime
The big news in town this week is the bank robbery. There are two banks and Bok's family uses the other one, right across the street. When we go to do business at our bank we see three armored cars parked at the robbed bank and a guard with a machine gun. Something about shutting the barn door after the horses have gone springs to mind.
And we stop at a clothing store to say hi to a friend of Bok and I notice something odd. Most of the clothes are held behind the counter. You're not allowed to just go and look through them, rather, you ask the clerk to show you things. There's even a section of the shop floor that's behind bars. Shoplifting is apparently a huge concern. This is not an expensive store, very ordinary clothes. If only the government would tackle the crime problem here maybe the resulting economic improvements would reduce the very severe poverty!
Instead, the government lets crime go out of control while punishing the law-abiding citizens with tax rates up to 47%. It's a very nice country to visit - as long as you're very careful - but I really don't know why anybody would want to live here.
I saw a brief news report about a secret memo supposedly being circulated within high government circles in neighboring Zimbabwe. They supposedly have put together a plan to bomb some of their own country's infrastructure using British-made explosives. Then they'll cry to the world that the Brits are secretly funding the overthrow of Mugabe's dictatorship. Then they'll throw out all those in the country who hold British citizenship. They'll leave with their non-British family members. Within six months pretty much all of the remainining white people will be expected to leave, too. This, says the memo, is the proposed solution to that country's "white problem." I don't know if it's true, of course. But I wouldn't be surprised. We talked to a woman back in Mosselbaii from Zim and she never referred to Mugabe by name. She spoke of him only as The Anti-Christ.
And in another neighboring country, Botswana, they are beginning to implement similar "land reform" policies as in Zimbabwe. Why do African governments follow policies that repeatedly have caused disaster upon disaster? It's no wonder they're so impoverished.
Meanwhile, the South African foreign minister spoke the other day at an international conference elsewhere in Africa and dismissed the critics and pessimists. She said they're wrong and Africa WILL prosper. I wonder how in the world she arrived at such an improbable conclusion? Well, she has always impressed me as an idiot.
I wonder if they'll give me Zim dollars at a foreign exchange bureau here. I'd really like to have some to give away back home. And maybe the RSA foreign minister will be proved right after all and someday they'll be worth more than several thousand to the U.S. penny!
07.01.04 Pretoria and Johannesburg
It's time for another visit to Johannesburg, including a side-trip to nearby Pretoria which is on the far (North) side of Jo'burg. The two cities have grown to where there've practically met. There are business parks arrayed between them so as to be positioned to serve both cities. A sprawliing metropolis. Close to Pretoria is a big monument near the highway. It's a huge block commemorating Afrikaaner history. I'm surprised that it has remained undisturbed! It must be closely associated with Apartheid. Downtown Pretoria looks pretty much like any big American city center, though it's more than a little run-down. We're only here to pick up Bok's Police Certificate. He needs that in order to get a green card - the U.S.A. doesn't want to import people who are wanted for crimes in other countries! It looks like a diploma! LOL. It just says he's not wanted for anything here.
Back to Jo'burg for a medical exam. It's a Jewish hospital and very efficiently run. The moment we step out of the car a golf cart shows up and the driver invites us to let him drive us up to the entrance. Wow! Everybody here is so friendly and helpful. So different from the government. Bok gets an X-ray here, which he takes to a doctor in a building next door. He's been named by the U.S. Embassy as among the few doctors in South Africa with the authority to pass people wishing to enter the USA. He seems to do little else but perform these exams. Turns out he's originally from the American mid-West. While I'm waiting for Bok I get to wondering if Jews were allowed to vote under Apartheid. I don't have the nerve to ask anybody. BTW, I'm speaking here of Jews complete with Yarmulkes. Practicing Jews. There are lots around this neighborhood.
Johannesburg is divided into many distinct neighborhoods. Like Queens, New York. Each has a little different character. On the map it looks like there must be at least 50 of them. When we leave the doctor, we're finished for the day. We can pick up the final results tomorrow following the return of the lab analysis of Bok's blood. We had to get up at 3AM today so we're tired. For some unimaginable reason there just do not seem to be enough hotels in this city. We've been thinking about hotels all day and we practically never see one. Those business parks along the highway would, if located in America, be littered with Days Inns and Motel 6's but here there's nothing. Weird.
We have a vague idea of the part of town we prefer to be in and in getting from here to there we pass through a neighborhood the map calls Hillbrow. I mention this and Bok goes into panic mode. Hillbrow is notoriously crime-ridden. "Lock all the doors!!" Now that he mentions it, the area does seem to have a dangerous edge somehow.
This city has a huge crime problem. In the white neighborhoods there are walls surrounding EVERY house, or in some cases, surrounding whole groups of houses. In other places in South Africa they surround only many of the houses, not all. Not only that, the walls here often include electrified fencing along the top or razor wire. I can't help thinking that every one of these walls must be seen as an accusation against the government of incompetence in the performance of one of its fundamental responsibilities - the protection of private property and the punishment of criminals. OTOH, I've often read in the papers about how often people jailed here on even minor charges are often raped by other prisoners and become infected with AIDS. A death sentence for even the most minor of charges. It's all very, very difficult.
After some considerable effort we find a room at the Holiday Inn. take naps, and then go out to mingle with the natives. English is the preferred language in this city. I simply cannot possibly convey here how precious it is to me to here conversations going on around me that are nearly always in English. A great thrill.
Somebody notices my accent in a bar and asks if I'm British. What??? When I correct him, then he gets to telling me how America is arrogant. He's quite drunk. I ask him, well, should we be apologetic because we happen to lead the world in every major field of human endeavor? Politically, culturally, militarily, scientifically and more. This gets him rather agitated. But when he tries to answer he's frustrated by the degree of his innebriation. Pretty soon he's reduced to challenging me to confess that America isn't always right (which confession he extracts easily) and he seems to consider that sufficient to allow him to declare victory and withdraw. The encounter is remarkable only in that it happens that I never met anybody here before who was critical of America. Anti-Americanism is on the rise in a lot of places but not here. Not among whites, anyway. President Mbeke is anti-American but he's clearly a demagog so his opinion shouldn't count.
Later, somebody else mentions that he used to live in Pretoria but over there, "It's too Afrikaans." Maybe there's racism among the whites as well as among the blacks. But I don't pursue this. I'm so tired from my long day.
07.02.04 Again to Wesselsbron
We pick up the medical certificate. Bok has been judged healthy enough to be an American. He's relieved. It's still early so we have time to go back by way of the town where his complete birth certificate is ready to be picked up. He has only the abbreviated birth certificate and requires the full one. We get there 17 minutes after it has closed but, by use of his considerable powers of persuasion, the certificate is retrieved. The very last item he needs to bring to the interview at the U.S. embassy next Thursday. It's been very difficult but now it's all done. Mission accomplished, we drive back home through intermittent driving rain and I'm glad I'm going to be back in Summertime in just nine days.
07.03.04 Miscellaneous Observations
The Holiday Inn in Jo'burg has a vending machine next to the lobby. It offers soft drinks (always called cooldrink here) and also beer. Same machine. Alcohol is regarded more benignly here than in America. Children are often seen in bars, as I've mentioned. And at this hotel they could easily purchase beer with nobody to notice. In fact, even for drunk driving you can expect to get a R2000 fine and no jail time.
And the Rand is another thing. It's been climbing so much against the dollar. A while back, since I've been here, it was over 6.7 to the dollar. Now it's about 6.12 to the dollar. This is very bad news for the South African economy. Doesn't do me much good either since every time I use an ATM I take the same amount while the charge against my U.S. bank account is now about 10% higher than it was in April. The government wants the Rand to drop but they can't quite seem to get it to go in the right direction. I gather the fault is mostly in Washington.
We're going to miss watching the show 7 de laan www.7delaan.co.za the Afrikaans soap. I have no interest at all in American soaps and can't bear even to be in the same room while one is on TV. But this one is fun to watch. Recently, they introduced a new character, a black woman doctor. And it's the strangest thing. She speaks only in English while everybody else replies to her only in Afrikaans. They tell me that's actually common here. And, as always, her English is not translated for the audience. They're expected to understand her. Perhaps even more oddly, the sub-titles continue to print what she's saying - in English. Somehow, it seems, white South Africans appear to have come to the conclusion that they must drift to the use of English. I still can't get over the way the commercials run randomly, some in English some in Afrikaans.
I happened to watch an African soap for a little while recently. I don't know which principal language they used but it, too, featured English sub-titles. And it was interesting that in the family home mother and daughter would sometimes slip in and out of English for no apparent reason. And the subtitles continued merrily along printing only the English.
07.04.04 Fourth of July
No Independence Day festivities are planned. We are, however, making plans to go to Sun City Resort tomorrow. It's world-famous. And it features in a surprising number of South African films. We plan to visit the game park there on Tuesday. On Wednesday we'll go into Johannesburg. Then on Thursday Bok will be at the embassy all day. On Friday, I have my own appointment there in the afternoon so I'm going to stay in the city with a friend while everybody else comes back home to Wesselsbron. Then I'll get a ride to the airport for my flight home on Saturday. Bok's leaving a few hours later than me. I probably won't see him.
So, I might not get the opportunity to upload anything new until I reach Washington on Sunday.
The other news is I've got a winter cold! It's pretty bad. :(
7.5.04 Sun City
We're up early, lots to do before we go to Sun City. I sleep the whole way. And cough and sneeze. We pass through a town which is headquarters to the Afrikaaner Resistance Movement. (I might have muddled the name - that's the general idea at least) Their leader was just released from prison recently. He has renounced violence and says he intends to focus now on preserving the Afrikaaner language. He also wants his movement to be more focused on Christianity. I think I know the type, from back home in Idaho. The Aryan Nations used to be headquartered there. I gather that most Afrikaaners (just like most Idahoans) find them an embarrassment.
When we arrive to Sun City I can't bring myself to sit upright. Bok reads aloud a sign referring to the three largest captive Nile Crocs in the world. That sounds nice....
The lobby looks something like the Mirage in Las Vegas. Oh, and there's no gun check or metal detector here! I guess Sun City is upscale enough to not require them - at least I hope that's the case! We get settled into our room and I must go to sleep. Everybody else goes sightseeing. When I wake up I walk around for a bit and come back to watch Sun City's promotional video on the TV. The place does seem to be something very special.
The hotel we're in is sort of mid-level. There are two better hotels here and one cheaper. There's also time-shares and residences. It's a sprawling place with hills all around and a man-made lake. And there's mythology. The video would have me believe this is the site of The Lost City, built by an ancient highly-sophisticated tribe. And the Palace of the royal family = the super nice hotel up the road. The original residents were forced to leave because volcanos destroyed their city, then the jungle covered it all and it became lost. Whatever. In the first place, this is not jungle, it's just bush country. Still, it's an amusing story. And it accounts for the 'things fallen down' motif one sees around here.
I'm so weak! I barely can get out of bed to go downstairs and quickly lose R70. I can see the spires of the castle or palace or Lost City above the tree tops. We'll go over there tomorrow. I'm in bed early.
7.6.0 Big Five
Bok gets up late. But when he finally does get up he points out a baboon right outside the patio window! It's sitting on the next level down, gazing out at the pool and the lake. He looks like a very happy baboon. Later, we ask Bok's mom and dad if they have seen the baboon. Yes. In fact, it's been in their room and all through her bag! I think I saw that scene in an American Express ad. We must keep the patio doors closed! When we look outside from his parents' room we see the baboon again. Oh, wait, there's two more. And one with a tiny baby clinging to it. And more and more. This place seems all but over-run with baboons! I like that.
There's a national park right next to Sun City. There's an entrance just a couple of kilometers down the road. And, whaddayaknow. It's only R125 for us all to drive into there. The best part is, I can recline comfortably in the back seat of the combi (van) all wrapped up in a blanket and still see everything.
Practically in no time, we see an assortment of boks, impalas, and so on. Deer-like things. not all of them end in -bok but all of them are lion food! We all wish we could see a lion but that's unlikely. Bok's dad has only ever seen them on three occasions in his whole life (that is, speaking only of this kind of wild setting). All kinds of cats are hard to see so we must not get our hopes up, even though there are also leopards and cheetahs here. Someplace.... So we decide we most want to see elephants.
Bok's mom swears she sees an elephant. But it's nothing. She swears again, even more adamantly, that she sees an elephant. Turns out it's a rhinocerous! It looks like a tank. A slow-moving well-armored tank. Very, very cool!
Later we see two more rhinos and lots of zebras and giraffes in the distance. There are wart hogs right near the van, which is nice because I like them so well. And they don't run away here like they do at Bok's uncle's game farm - this because they are shot as pests over there. But we still see no elephants. Bok's dad says we must get up very early to be here when the park opens and then we'll see elephants and lots of other animals at the watering places.
We find a place to stop for a picnic, which is a hill near the reservoir enclosed by a fence. We have noticed countless signs strongly advising visitors not to step outside of their vehicles on account of the dangerous animals. So I wonder how the dangerous animals know that the parking area is off-limits to them.... And even after we get safely past the pedestrian gate to the safety of the enclosure I still have to wonder about the black mamba snakes, which are mentioned in the brochure we were given when we came inside. Happily, there's nothing inside but birds and monkeys. The monkeys seem especially fond of the picnic area, just as you might expect. They come very close, unafraid. They have such delicate little fingers.
After we get our fill of monkeys, we notice some lumps in the distance near the water and go nearer. Hippopotami! These are supposed to be the most dangerous creatures in Africa, kill more people than anything. But right now, they're not doing anything but sleeping in the sun. If I didn't notice slight movements occasionally, I would suspect them of being hippo statues down there. We walk around but don't find anything else of interest. The fence looks a lot less high and secure down near the water but I guess it must be all right.
Somebody remarks, doesn't the land look just like in The Lion King? Well, I never saw that movie. But now I guess I should. Bok says he remembers that the Disney artistic people designed the scenes while staying at Sun City so - very likely - we are at the real home of The Lion King! I think maybe the last time I was in NYC I should have gone to see Lion King on Broadway instead of Jesus Christ Superstar across the street. I'd have an even deeper appreciation now of the magic of this place.
Everybody remarks how much we wish we'd see elephants. There are some more false starts. And lots of elephant droppings - VERY big, those. We pass other cars from time to time and we ask about elephants. Nothing. Every time we see a few cars stopped in the distance, we try to hurry. Eventually, it pays off. Elephants!!! They're so near the road, too. I'm surprised they're so small. I mean, they're big, but not gigantic. Lots of babies, too. And just when I think I've spotted the smallest I find another even smaller. Finally, one of them is just plain tiny (next to the others). It has got to be a newborn. I count 23 as the group passes near us. And Bok's dad keeps ready to make a quick exit if need be. People have great respect for elephants here. If you don't you can end up squished in a big hurry. This is just great :)
After they pass us we turn around and go back to watch them some more. And they all begin tearing up bushes to eat. We move on.
On another side of the same reservoir we come to a walkway out across some marshy areas to a building, a hide, where we can hope to see some interesting wildlife. It's an elevated walkway with stick walls, not sturdy, and with electric fencing beyond. I suppose that's to encourage the hippos, and other Big Five creatures, to just please go around. We find a tortoise and lots of pretty birds but no hippos up close. On the wall inside is a big poster showing pictures and names of the most interesting animals of Southern Africa. Another poster informs us that there are some 35 species of snakes native to the Northwest Province. Isn't that nice to know?
In the distance, on another shore we can see giraffes and elephants together. This is a wonderful scene. The water, the grassy field with the animals, and the hills beyond. Perfect. I kind of think that if I wanted to populate the perfect African scene without overpopulating it, I would choose elephants and giraffes together. Marvelous.
We are following the road adjacent to the reservoir, aiming to get nearer to the scene of my perfect scene, when Bok shouts, Crocodile! Sure enough, there's one sleeping on a rock not far away and he takes some pictures.
When we arrive, we don't find the elephants where we saw them. So we go driving around in the hills still looking for them. More wart hogs, more zebras, many boks. Pretty soon, we find an elephant plowing up a forested hillside. Hills are not the preferred habitat of elephants so everybody is surprised. And I notice that the trees around here have taken a lot of damage. Elephants sure like to knock down (or at least mess up) the trees. We find several more elephants among the trees here. Some of them are lots bigger than those we saw in the family group. Something about the old ones eventually going off by themselves, Bok thinks.
It's getting late and the park's gate closes at 6:30 so we plan a route to a different gate which will get us outside with little time to spare. Since we saw elephants, lots of them, we don't particularly need to come back tomorrow morning. It's all fine with me because I'm cold and sick. And we haven't seen anything at all in a while. I'm just ready to lie down when we come upon a group of four very big elephants. We're quite fascinated and so we kind of don't notice that the one has wandered out to the road and now actually onto the road. Ummmh, how are we going to pass?? Behind us we notice a park ranger vehicle, so we back up and talk to him. No way is he going to try to drive past this bull elephant! Well, I'm happy to defer to his judgment in this matter.
There's one other car in front of us, much nearer the elephant. It looks reckless to me to be that close to such an immense animal. Suddenly, it turns away from the bushes it was grazing and rotates its head and flaps its ears while trotting closer to the car. The car gives ground quickly. Very prudent. When the ears start to go into motion, I'm told, that's a very serious warning sign. The elephant seems satisfied that the car has moved away and soon settles down. Well, this is getting us nowhere and the gate's closing soon. We turn around.
We pause to talk to somebody else just as he's approaching the scene and he tells us his father one time had to reverse for 7km while being chased by an elephant. But then, looking back, we see another car has passed right by the elephant without incident. The elephant has just its butt in road and its trunk in the bushes grazing. Pretty soon, the car from our side, and now the ranger, are passing as the elephant moves entirely off the road. It must be safe. So we turn around again.
Another of these huge elephants is very near the road a little ways on, but he's sort of caught up in some knocked-down trees so it seems safe to go by. I would love to get a close-up photo but Bok's dad has other ideas - like making a clean getaway. Its face is about 15 feet from mine as we pass. I'm enthralled. I notice its tusks are dirty. On the other side, a few more people have stopped their vehicles to watch but we're going back to Sun City.
And so the sun sets on maybe the single best day since we came to Africa. The scenes here have surpassed my ability to describe them. I never use the word awesome but it fits here. I'm in awe.
We all get a laugh about the safari/tourist vehicle stopped along the road a mile or so beyond the elephants. They've each paid twice what we paid for our entire group and the guide doesn't know how near he is to elephants. We've had some very good luck.
The brochure, which I'm looking at again now, mentions that in the days of elephant hunting on a large scale they went for only the biggest tusks and, as a result, the gene pool has been thoroughly purged. In the past, lots of elephants had huge tusks but now there are only smallish tusks. And I realize the elephants and the rhinos here have their tusks and horns in tact. Poaching must not be a problem here. I think it is a problem in some other countries so South Africa deserves credit on that score.
I want so badly to go to bed but when we drive back inside of Sun City we go directly to the castle. It's so fabulous. Better look at their web site. It really is palacial. I knew they'd have a better outside here than in Vegas but this place is also better on the inside than any resort in Vegas. It's astounding. Waterfalls and pools, carvings, fabulous rooms. Vegas has lots of things but it has nothing like this. It's reputed to be one of the best hotels in the world and I don't doubt it for a moment.
We make one more stop, at the Entertainment Center next to the Cascades Hotel. There's some reconstruction going on - this being the off-season - but it's real nice. Inside are acres of games for kids, like at the NYNY Casino in Vegas. Out back, it's like the Like Disneyland. We cross a bridge with elephant statues above us. And the bridge is built with cracks in it. Nice touch. At the end of the bridge is a very high gate, somewhat in ruins and with (fake) fallen boulders all around. This is the heart of the mythology thing I guess. There's a water park here, including a very high water slide and a wave pool. There's a wave pool in Vegas at Mandalay Bay, reputed to be the best pool in the city. This one is better. We might come back here in the morning.
I'm so cold. I need to be warm in bed. We have a quick bite to eat and then I'm done for. It will be nice to be in Washington, DC, next week and think that 'last week at this time' I was being menaced by an wild elephant.
After a very long, very hot shower and a nap I get a faint second wind and go looking for everybody. They are in the casino, naturally. Oh, look, Sun City has ten cent machines! Consider that a rand is a sixth of a dollar, and credits in this machine are one tenth of that. T'aint much. So I figure I'll play for a bit. And in a few minutes I win back my R70. Then I'm ready for bed for sure this time.
7.7.04 Royal Palace
I'm all better this morning. They're telling me it's the flu, and not a cold. Anyway, it's a sunny warm day and I feel feel fine.
We go down to the bottom floor and I didn't even know they had an outdoor patio for the buffet. This is marvelous. And the best part is the monkeys. Bok remarks that the breakfast buffet at R95 is more than you'd pay in Vegas but there you don't get monkeys.
I love this place. We pass a golf club which, I gather, is somehow a very big deal among professional golfers. I don't see Tiger Woods and so we move on.
This is mostly all just a big park. Rocks, bridges, paths, trees. All carefully arranged by landscape artists to help visitors feel blissful. It's working very well. We come to a small aviary. It's unattended with a double-gated entry. A lot of these birds are familiar only here we can see them close up, and take pictures. It's funny that on two occasions I notice especially beautiful birds and only a moment later realize that they're actually outside of the aviary net.
We arrive at The Lost City from the back this time. I don't know how it could look any more perfectly like the ideal palace gardens. The paths wander among streams and cascading water falls, across rope bridges, and at some points you cross the stream stepping from stone to stone. Through the breaks in the trees we can see the castle (hotel) which is just as fabulous from here as from the front.
The forest is quite dense here. It looks perfectly magical throughout - the sprinklers are kept discreet. (The surrounding bush country is quite dry right now.) I keep thinking of the 35 species of snake native to this province. They could be in the trees right above the paths. I think about the snakes a lot....
We come to a small ancient-looking ampitheatre and then to a most elegant pool with ruins all around. A sign says, "Royal pool for use by Palace residents only." That seems only natural! We've come by an unusual route to the water park area, The Valley of Waves. The standard route is a most elegant long set of stone steps coming down from the hotel. Besides the wave pool, there's water slides. Cold water would be unwise for me right now but Bok goes down a few slides. They're real good ones.
We spend some time at the wave pool. It's busy on this winter's day. There's even a DJ to entertain us, "This song was requested by the guys in Room 2123." LOL. I love this place. Everybody I know is unreservedly recommended to come here - and to the park next door. Bok says it's the best resort in the world, ever. I really wouldn't be surprised. We heard they have special rates sometimes at big hotel this time of year, as little as about US$120 per night.
It's time to go to Pretoria. We load up the combi and start driving. Bok's mom reports she's been talking with one of the casino bigwigs and she has several interesting bits of news for us. There were a total of 56 lions counted recently in the park - helicopters were used. Civilians don't see them much. But there's one spot which they favor, and it has been observed that the other animals, the food animals, always keep well clear of that spot.
And one more story. This morning a small child on the grounds was observed taunting the monkeys. Her parents were strongly advised to put a stop to this, which advice was ignored. So police were called and not one but two written warnings were issued. Which warnings were also ignored. The child was close to a monkey and waving something like a lollipop. The monkey grabbed it and the child pulled back, not wanting to let go so the monkey scratched her cheek right down to the bone. It sounds like a terrible mess and the child is in hospital in Pretoria now. One more reminder of how dangerous Africa can be.
Oh, and one more still. Last week some tourists were about to enter that same picnic area when the saw a cheetah inside. They left in a very big hurry.
This has been my last day in the countryside. I'm glad to be going home but it's still sad. I keep looking out the window as we travel, admiring the now-familiar South African scenes this one last time. The hills, the bush, the simple homes.
7.8.04 Visa
In the morning, we drive to Jo'burg to the embassy. Bok finally has acumulated all of the voluminous paperwork necessary for him to make his application for his permanent visa. There's some question about the correct fee so I go in with him. I'm worried they won't let me in without my having a clearly-valid reason for being there but I need not have worried. A U.S. passport works like a charm here. They don't even open it! I only have to wave it and I get inside the gate. First, there's a small guard office with a metal detector and an explosives detector. I fail the metal detector and they have a wand, too. I pass. I'm sent on to the main building where I'm metal-checked yet again. The guard, seeing my passport, comes around to show me to ignore the long visa line and go beyond to the American Citizen Services windows
The Nonimmigrant Visas, Immigrant Visas, and ACS are all handled from the same room. It's got rows of chairs all facing some televisions showing CNN. And behind them the room is, from end to end, a series of 12 windows. These are very secure with thick glass, and slots beneath for passing papers, and speakers/microphones for communication. All business is handled through these windows. This is exactly as far as anybody gets (or needs to get) when conducting consular business here.
We get some clarification about the fees, which may be paid in either Rand or Dollars, but their exchange rate is very unfavorable ("Go to the bank," we're told) and so I take R2100 to the mall across the street. I try three places and they refuse to let me change rands to U.S. dollars without evidence that I have previously changed at least that many dollars into Rands (which might include slips from ATMs only I have never saved any of those - "always save them, I tell everybody that.") Currency controls. This is hopeless. So I take more rand from an ATM (to cover also the poor exchange rate) and go back to the embassy. The picture is not exactly up to specs but everything else is in order. Bok pays the fee and is told to return at 2:15 with a correct picture. Back to the photo store in the mall again, where they happen to specialize in U.S. visa photos so I have no idea how they could be so inept.
I need to be dropped someplace so I'm not present for the big moment. Bok gets his visa. I thought they just put a stamp in his passport, as with a temporary visa, but turns out it's a full page all embossed and notarized, and with his photo attached. He's deliriously happy about it. He's been aching for this piece of paper for years and now he's got it.
Meanwhile, I'm in Pretoria. Among other things, I get a haircut. The woman wants to move to America. In fact, she wants to get married in Las Vegas. She actually wants and Addams Family theme to her wedding. ROFL. I tell her more about Las Vegas. And she tells me that President Mbeke is incompetent and an alcoholic. She tells me the government misisters have jaccuzis in their private jets. It's obscene.
Eventually, I have time to kill in a restaurant bar. I seem to spend a lot of time in bars here but I want to mention that I never get drunk. Never have been since I got here, not once! The bartenders are all black. The customers are all white. I chat with one of the bartenders sometimes while reading the newspaper and, after I mention some more bad news from Zimbabwe he assures me that black people, too, think that the president over there is insane. It's a relief to hear that.
While I'm enthralled trying to understand the articles detailing the new South Africa gun control laws the all-black bartenders have been quietly replaced by all-white bartenders. They look like rugby players. I wonder if it's normal here for bartenders to prefer to work only with their own color, or what's going on. I despair that now I'll never understand this country.
7.9.04 Job Interview
My last full day in Africa and this is the day the embassy invites me to meet with them to discuss doing a web site for them. I've always wanted badly to do more such sites so I can't complain. Even though logistical difficulties will require me to spend the entire day at the adjacent mall. I hate malls. My appointment is at 2PM. I go over to confirm this, to the ACS window, and they have good news and bad news. There will be three consular affairs officers who want to talk to me but please can I make it 3PM. Sounds fine.
When I come back I get to bypass the whole windows area and the crowds. I'm directed to the proper visitors entrance. I get a visitors badge. The guards over here seem to be of higher caliber too. Sharper. There are no U.S. Marines here because this is only for consular affairs, not diplomacy. FYI, Marines are used not so much to defend a building and staff, per se. They're to protect the secrets. Locally-hired guards can do everything else but when it comes to national security matters only a U.S. Marine contingent will do. At the embassy in Ottawa, Canada one passes private guards only on the way to the visa section. On the way to the primary offices, one passes first those same guards and then also the Marines. Here, I pass a total of three sets of guards, each with a metal detector gate.
It's all just ordinary offices inside and we talk about the site they need and about the other U.S. consular services site I've done previously. (It's got an excellent reputation. I think it's far the best of any such site in the world. The State Dept school for consular officers in Washington holds it up as a model :)
At one point, we need an Internet computer so we go around from these offices into the area right behind the glass. Bok will be so jealous. "This is where we do the visa processing," I'm told. "This is where the magic happens," I reply. Where people's lives are changed, for better (and sometimes for worse). There are Wanted Posters out of view of visitors. And, I'm pleased to see, a very big collection of spare visa photos stuck to the walls. Their clients. These are for decoration but also, I like to think, to remind the staff how urgently important their work is to so many people.
They mention that a lot more Americans used to live here before the crime situation went totally out of control. Nobody is safe here anymore. They mention too that right now only three Americans are jailed in South Africa. We finish our discussions and it's time for me to go. I can solve their problem, they want me to do it, now it's only a matter of making the wheels turn inside of their bureacracy.
7.10.04 Last Day in Africa
It's my last morning. I wake up early, 5:30. What's the use of sleeping late when in a few hours I'll have nothing else to do but to sleep? I've got to be at the airport in 12 hours. In 24 hours I'll be halfway to Atlanta, and then on to Washington.
I wanted to figure out this country and I thought I'd have ample time, but I don't know. Maybe it takes longer than three months or maybe I'm a poor student. I know I didn't talk to enough black people. It's not easy to engage black people in meaningful discussion. They're everywhere on the streets and behind assorted sales counters, but one doesn't meet them socially at all. Maybe that's going to end up being my primary 'lesson' about South Africa: Millions of white people and millions of black people, all living in the same place and never really talking to one another. Only talking all the time about one another. Tragic. Really, really tragic.
At the airport I anticipate no problems but I'm mistaken. I never heard of people's passports being checked on the way out of a country before. Well, if you've read this straight through you might recall there was a teency little issue with regard to my 90-day visa vs. my 102 days planned visit. They didn't seem to care on the way in so I gave it very little more thought. Ha!
Well, after the various familiar checks (ticket, passport, metal detectors) I arrive at a hall where I need to show my passport to South African Immigration Control. They immediately notice the overstay. I am required to sign a statement acknowledging my guilt in having overstayed my visa by a whopping 12 days. If I don't show up to a South African embassy or consulate in the next 3 days to pay a fine of R1000 then I will not be permitted back into this country! The people whose job it is to maintain law and order here really do seem to have a serious problem ordering their priorities. It will be easy for me to pay US$160 while I'm in Washington but I don't know whether I care or not. Maybe. I better decide soon.
We do some shopping, such as picking up Amarulla at the duty free. We find out they have wireless Internet available here at the airport but I can't get it to work and I don't know why. A phone call to the USA is US$1 per minute so we make one quick call. The flight makes a one hour stop in the Cape Verde Islands for refueling and to swap crews. It's dark so I don't know what these islands look like. In fact, it's dark almost the whole 18 hour flight, up until the Carribean.
Arrival is mostly uneventful. There's a flight from Iraq arriving almost the same time. I feel in awe of so many soldiers in their desert khaki uniforms. Outside, it's warm and muggy. Summertime! It's very good to be home in America where I belong.